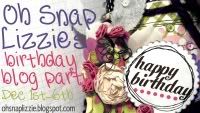 It's time for
Lizzie's Birthday Blog Hop
! Hopefully you already checked out day one with
JESS
, day two with
DEE
, and of course the main post from
Lizzie
. There are amazing projets to be seen and prizes to be won! This is day three!
Happy Birthday to my sister from another mister, my twinnie, Lizzie!
In celebration, I have two projects to share with you today (and a prize to giveaway to one lucky winner!):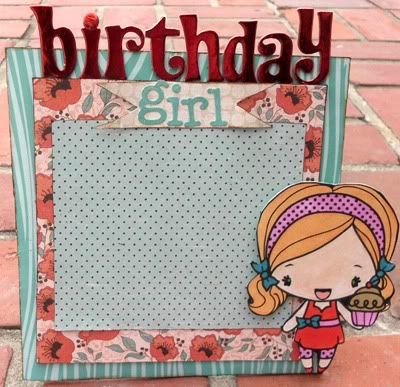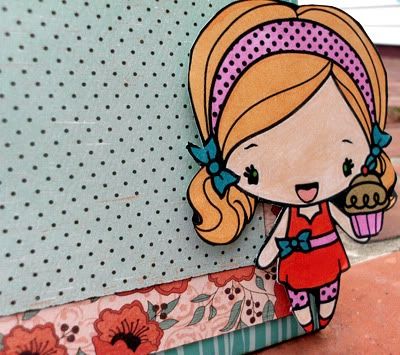 The first is a simple project that would be such an easy gift to make for someone (whether it be for their birthday or for the holidays).
It's a picture frame made out of very cheap matierial - cardboard!
The grogeous papers I used are from Authentique's "Gathering" collection aside from the blue woodgrain paper which is by Bella Blvd and it's called Family Dynamix - Roots.
The adorable little girl is a digital stamp from The Greeting Farms named "Cupcake Anya" that I colored with my BIC markers.
The word "birthday" is made up of Tinsel Thickers and the word "girl" is made up of cardstock stickers from Crate Paper's Emma's Shoppe Collection.
I inked the edges with my all time favorite ink - Vintage Photo by Tim Holtz.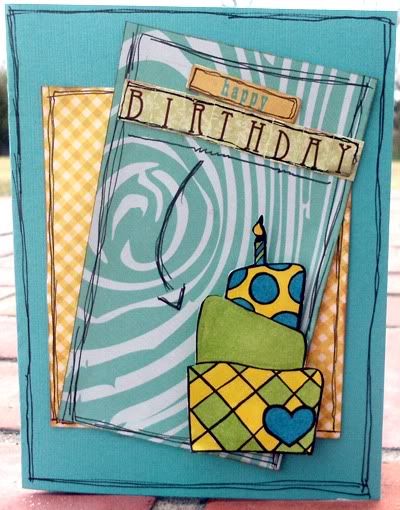 The second project is of course a birthday card! I kept it pretty simple. The base is your average Bazzil Cardstock.
I once again used that same woodgrain paper from Bella Blvd that I mentioned before.
The yellow pattered paper is from Authentique's Blissful collection.
The cute little digitally stamped cake was made by our one and only, Lizzie! I colored it using my BIC markers.
All the edges have been inked with Vintage Photo and I scribbled lines around each edge with my Zig Writer marker.
The "happy" is a sticker from that same Crate Paper's Emma Shoppe sticker sheet and the "birthday" is made out of tiny alpha stickers from Bo Bonny's Vicki B. Collection.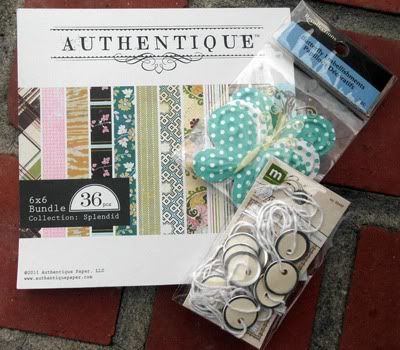 Now - it's giveaway time!
I will be giving away a 6x6 Authentique paper pad (the Splendid collection), a package full of the Vintage Finding's mini circle tags by Making Memories, and a package of Recollection butterflies.
How do you win?
Leave a comment on my entry over at
Lizzie's blog
. A winner will be randomly chosen.
For extra entries to win you may:
- Comment on THIS entry in my blog.
- Follow my blog. (Let me know you are now following or if you were already a follower.)
- Follow me on
Twitter
. (Let me know you are now following or if you were already a follower.)
- Tweet about this blog hop! (Give the the url to your twitter so I can see that you have done so.)
Once again - Happy Birthday to the most wonderful girl in the world - Lizzie!
Enjoy the rest of the blog hop, everyone. :) You'll hear from Carisa tomorrow!